We help companies develop
unique financing solutions
for their projects in the natural resources, energy, and related infrastructure sectors.
Formerly operating as the project finance team at Cofarco SAS for over 10 years, Eneriom Advisory was founded in 2021 to assist companies in successfully navigating the increasing complexities in the financial markets where many forms of credit have become scarce. We advise our clients on strategic and financial matters including mergers and acquisitions, restructurings, capital structuring and raising.
We bring decades of experience in navigating financial markets, developing banking relationships, and cultivating client relationships in the energy, natural resources and related infrastructure sectors.
Eneriom is a Financial Investment Advisor registered with AFITE and member of CNCEF Entreprise.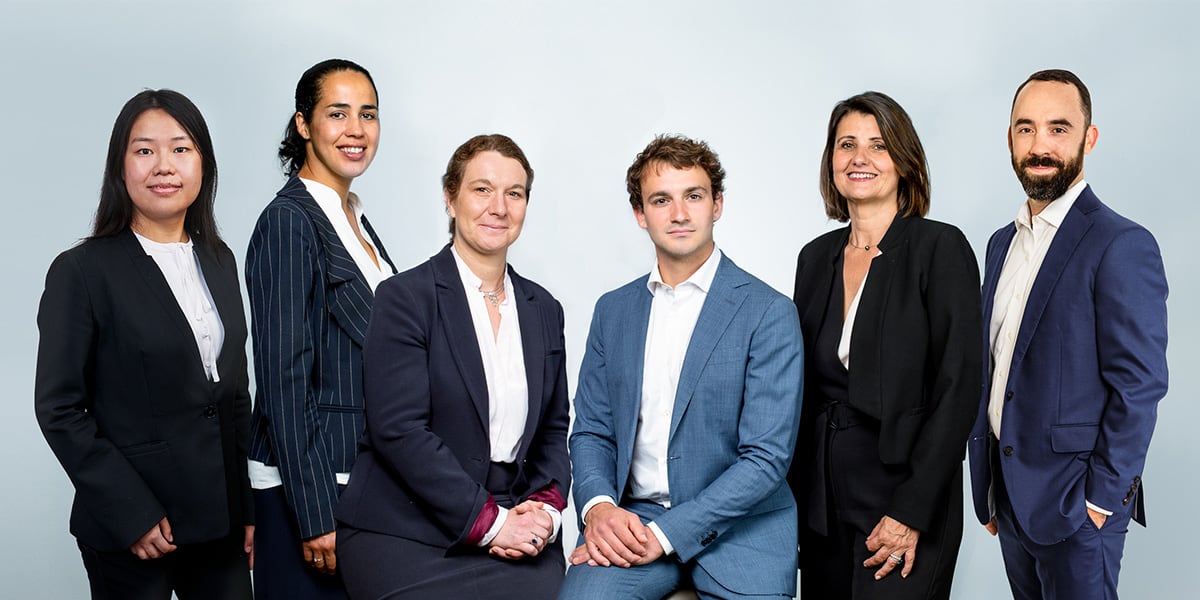 Independent
We are 100% owned by our employees and are not affiliated with financial institutions or any other third parties thus allowing us to provide unbiased advice to our clients.
Creative
We develop innovative bespoke solutions to financing obstacles that our clients may face while navigating the increasing complexity to be found in today's financial markets as well as evolving challenging jurisdictions.
Adaptable
Our long-term relationships with financiers enable us to identify new trends in financial markets and to continuously adapt our service offering to changing market conditions.
Ethical
We ensure that the highest ethical standards are applied across our relationships with clients, financiers and regulators alike.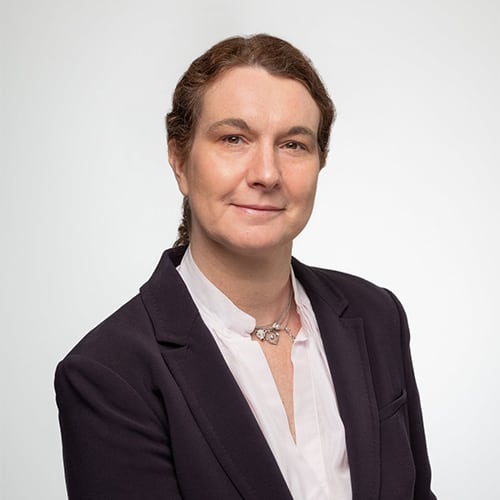 Laure Pironneau Morris
Executive Partner
Before founding Eneriom in 2021, Laure worked 10 years within Cofarco as Executive Partner, where she founded and lead the Project natural resources/ energy finance division. Previously Laure had spent four years at Standard Bank in London as director in charge of coverage for oil and gas and renewable markets. Prior to joining Standard, Laure held managing director positions with Natixis in structured commodity finance heading the Africa and Middle East desk for 4 years and previous to that the Russian energy desk during 3 years. Laure started her career at Natixis as a relationship manager: she spent over 4 years managing corporate relationships with the bank's energy, environment and building & civil works clients. Laure Graduated from the French Business School EDHEC "Grande Ecole" and has earned a Diploma in Business policy (with distinction) at the London School of Economics ("LSE").
Through to her banking experience and time as an entrepreneur at Cofarco initially and now as partner at Eneriom, Laure has had the opportunity to work on an extensive number of transactions including reserve-based lending, project finance facilities, tailor-made financing structures including mezzanine financing, equity raising, M&A transactions and acquisition finance and has built a solid expertise in leading roles arranging such facilities.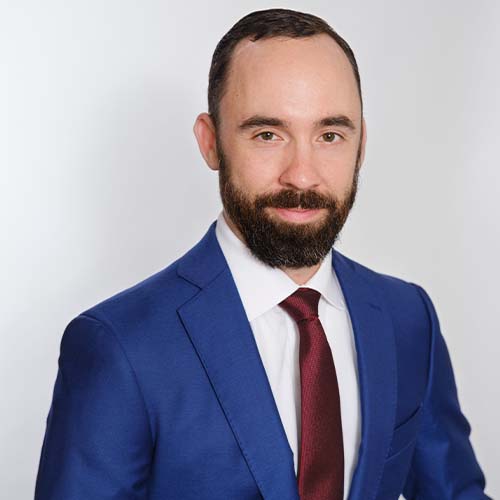 Stephen Dimon
Director
Stephen joined Eneriom as a member of the Cofarco team, on which he had worked for five years in Paris and New York. Prior to this, Stephen spent five years based in Washington, DC and London at Taylor-DeJongh, an independent investment banking firm providing strategic and financial advisory to clients in the energy and infrastructure sectors.
Through his career in advisory, Stephen developed a strategic understanding of the energy and natural resources sectors, having worked on numerous project financings, reserve-based lending, and bespoke financing structures for a diverse set of clients, including government entities, private and publicly listed companies.
Stephen has successfully arranged and structured complex financings, including delivering tailored financial models for energy and infrastructure projects, and has a long experience of working with clients to understand and structure for unique project risks.
Stephen received his MBA from Georgetown's McDonough School of Business.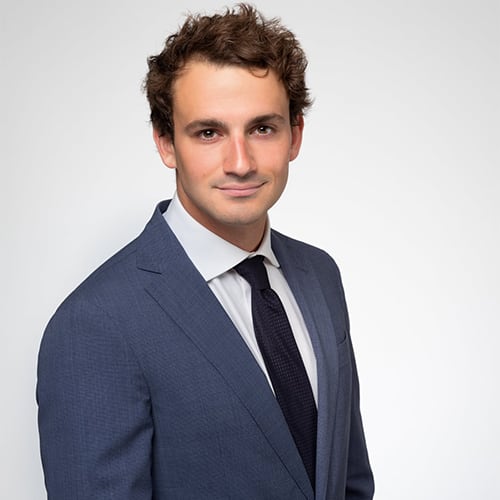 Emile Avezard
Project Finance Analyst
Emile joined Eneriom in December 2020 as an Analyst. He previously completed two six-month internships in 2019, at Cofarco as a commodity finance analyst and within Oddo BHF's international metal trading division as a front office assistant. Emile has supported on multiple structured financings in the energy and metals sectors, providing specialized modelling and sector research as a part of the Eneriom team.
Emile obtained his Master's Degree in International Affairs at Université Paris Dauphine in 2021.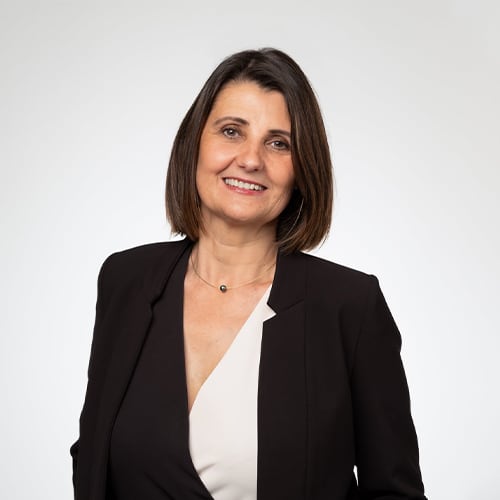 Véronique Herguido Lafargue
Secretary General
Veronique has been the Secretary General at Eneriom since its inception, and has worked with the Eneriom team since 2015 as the COFARCO compliance officer. With a legal and notary education, Véronique has had a career in compliance, holding specialized positions with various banking institutions. She was Head of Internal Control and Compliance (RCCI) of a subsidiary of the Goldman Sachs group. Since 2013, she has managed her own consulting firm, Happy Compliance, which offers outsourced services. Véronique also served as Secretary General of ACIFTE (Analysts, Advice in Finance and Transfer of Companies) from 2013 to 2018, then Delegate General of AFITE (Association for the financing and the transmission of companies).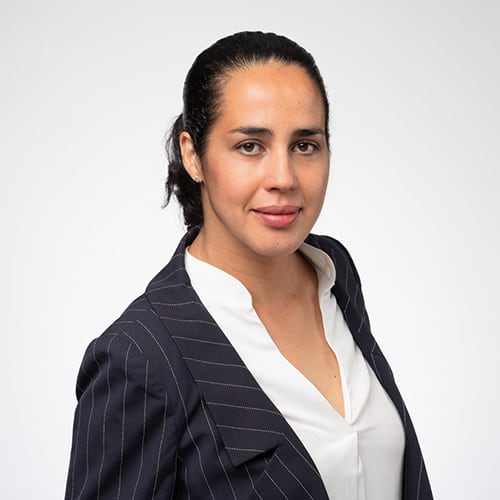 Maria Magalhaes Pironneau
Office Manager
After studies in history and a literary career in Brazil, Maria joined the civil service in France. In this context, she has worked for several years in municipal libraries; where she was responsible for, among other functions, team coordination, order management and billing.Having moved to the private sector, Maria is now working with ENERIOM as an office manager.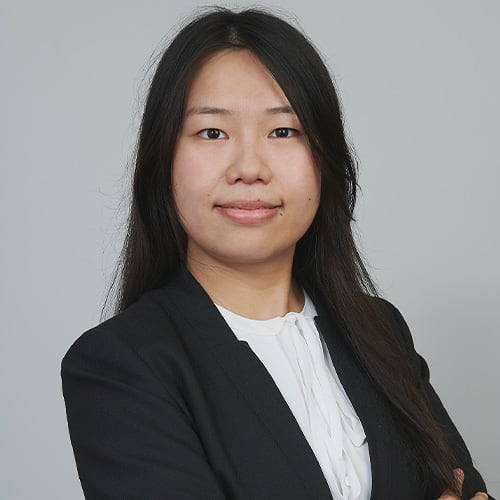 Wenqi Wu
Project Finance Analyst
Wenqi joined Eneriom in July 2022 as an analyst, and has been actively engaged in ongoing projects supporting the team. She previously completed three six-month internships, at CGN Europe Energy as an investment analyst in EMEA renewable energy projects, at Société Générale Securities Service as a sales analyst, and at Bank of China in Financial Management.
Wenqi obtained her Master's Degrees in Corporate Finance and Management at EDHEC Business School in 2021.
Eneriom applies high standards of conduct in compliance with best market practices across all its advisory and capital raising services.
We have internal procedures in place to
Prevent, manage, and deal with any situation where conflicts of interest may arise;

Ensure compliance with regulatory and legal requirements relating to the prevention of money laundering and financing of terrorism and other illegal activities;

Ensure that, except with the express prior consent of our clients, we do not disclose or use for our own benefit or the benefit of another party, outside the scope of our engagement, any information relating to our clients.
Eneriom is a Financial Investment Advisor registered with AFITE and member of CNCEF Entreprise
In compliance with the EU General Data Protection Regulation (GDPR), you can refer to the following link to check your privacy rights and how we process your personal data.